Trump knows the feds are closing in on him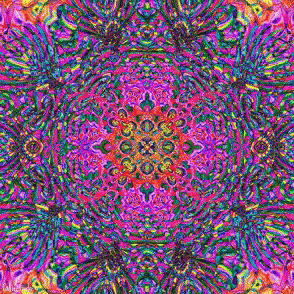 It didn't last long.

Immediately before and after his well-received speech to a joint session of Congress on Feb. 28, President Trump curtailed his use of Twitter. "For precisely four days, eight hours and five minutes, Trump refrained from tweeting anything inflammatory," the Washington Post
noted
. "That's 6,245 consecutive minutes!"

That self-restraint began to break down on the evening of March 2, just two days after his big speech, when Trump accused Democrats of having
"lost their grip on reality"
and engaging in a "total
'witch hunt.'
"

Just before 1 p.m. the next day, he
tweeted
a picture of Vladimir Putin and Sen. Chuck Schumer (D-N.Y.) having coffee and donuts, lifted directly from the
Drudge Report
, accompanied by the mock demand for "an immediate investigation into @SenSchumer and his ties to Russia and Putin. A total hypocrite!"

Then a few hours later came a picture of Rep. Nancy Pelosi (D-Calif.) meeting with Russian President Dmitry Medvedev and Ambassador Sergey Kislyak in 2010 underneath the
caption
: "I hereby demand a second investigation, after Schumer, of Pelosi for her close ties to Russia, and lying about it." (It took the president with the
"very good brain"
three tries to spell
"hereby"
correctly, having first tried "hear by" and "hearby.")

The presumption behind those tweets was that there was some kind of ethical or legal equivalence between the public meetings that Democratic lawmakers held with Russian leaders and the lies — in Attorney General Jeff Sessions's case under oath — that Trump aides told about their own private meetings with Russian representatives while Putin was intervening in the presidential election to help Trump. This notion can only be credible to the most purblind Trump partisans — the same people who would take seriously Trump's even more sensational allegations, soon to come.

At 6:35 a.m. on Saturday, March 4, the president of the United States
tweeted
from his weekend getaway, Mar-a-Lago: "Terrible! Just found out that Obama had my 'wires tapped' in Trump Tower just before the victory. Nothing found. This is McCarthyism!"

A few minutes
later
: "Is it legal for a sitting President to be 'wire tapping' a race for president prior to an election? Turned down by court earlier. A NEW LOW!" Followed
by
: "How low has President Obama gone to tapp my phones during the very sacred election process. This is Nixon/Watergate. Bad (or sick) guy!" ("Tapp"? "Hearby"? Doesn't Trump's phone have a spell-checker?)

Having supposedly uncovered a scandal comparable to Watergate, what did the president do next? He took a respite from Twitter for more than an hour, until 8:19 a.m., when he sent out an
insult
against the actor who replaced him on The Celebrity Apprentice: "Arnold Schwarzenegger isn't voluntarily leaving the Apprentice, he was fired by his bad (pathetic) ratings, not by me. Sad end to great show." (So much for Trump's premature
claim
to Congress on Tuesday night that the "time for trivial fights is behind us.") And then he headed out for a nice round of
golf
.


It was left to Trump's aides, the news media, and members of Congress to answer the "Huh??? What???" questions. Had Trump actually gotten his hands on classified information that the FBI had wiretapped him during the Obama administration?

There are only two ways this could have occurred: Either the FBI had presented a court with evidence that Trump was engaged in criminal activity or was an agent of a foreign power, or Obama had ordered an illegal wiretap. Either conclusion would be scandalous. But after a frantic weekend of fact-checking,
no evidence
whatsoever was presented by the White House to support Trump's allegations, which were
denied
by everyone from Obama's spokesman to James Clapper, the former director of national intelligence, and FBI Director James Comey.

It's possible that Trump aides were wiretapped as part of a broader FBI probe into the connections between the Trump campaign and the Kremlin or were simply recorded, as had been the case with former National Security Advisor Michael Flynn, during the routine monitoring of Russian officials. But there is no reason to think that Trump himself had been a target of the wiretapping, nor that Obama interfered in the lawful workings of the FBI.


It appears that Trump had gotten his information not from a top-secret briefing but from a Breitbart
article
long on innuendo and short on verifiable facts.

One would be tempted to say that the president's reliance on "alternative facts" to smear his predecessor is the real scandal here were it not for the fact that an actual, honest-to-goodness scandal — one that may conceivably rival Watergate — is at the bottom of this ruckus.

Why, after all, did Trump have a midweek meltdown that dashed pundits' hopes that he would act in more sober fashion? The answer is as obvious as it is significant: On the evening of March 1, the day after his lauded speech, major new revelations emerged about the mysterious links between the Trump camp and the Kremlin.


The New York Times was first out of the gate that evening with a story
reporting
: "American allies, including the British and the Dutch, had provided information describing meetings in European cities between Russian officials — and others close to Russia's president, Vladimir V. Putin — and associates of President-elect Trump, according to three former American officials who requested anonymity in discussing classified intelligence. Separately, American intelligence agencies had intercepted communications of Russian officials, some of them within the Kremlin, discussing contacts with Trump associates."

The Times story would have been big news were it not almost immediately overshadowed by a Washington Post
article
with an even more alarming finding: "Then-Sen. Jeff Sessions (R-Ala.) spoke twice last year with Russia's ambassador to the United States, Justice Department officials said, encounters he did not disclose when asked about possible contacts between members of President Trump's campaign and representatives of Moscow during Sessions's confirmation hearing to become attorney general."


Smaller but still significant revelations followed the next day. The Wall Street Journal
reported
that Donald Trump Jr. "was likely paid at least $50,000 for an appearance late last year before a French think tank whose founder and his wife are allies of the Russian government in efforts to end the war in Syria." (What could Trump Jr. say that would possibly be worth $50,000?)

J.D. Gordon, Trump's national security advisor during the campaign,
admitted
that, contrary to his earlier denials, he had directly intervened at Trump's instigation to remove the language in the 2016 Republican platform which had called on the United States to arm Ukraine against Russian aggression. And campaign advisor Carter Page
admitted
that, contrary to his earlier denials, he had met with the Russian ambassador at the Republican National Convention. It is hard to imagine why so many people would lie if they didn't have something pretty significant to cover up.


Out of all of these revelations it was the news about Sessions — which may open him to perjury charges — that was the most significant.

In response to the Post report, the attorney general was forced to recuse himself from the Kremlingate inquiry, much to the
fury
of President Trump, who was not consulted about this decision. This is what led to Trump's wild-eyed rants on Twitter, designed to distract from the real scandal and to convince his more credulous followers that he is the victim of a plot by his predecessor.

But why would Sessions' recusal make Trump so unhinged? The president must have felt relatively confident that the "Kremlingate" probe would go nowhere as long as it was in the hands of Trump partisans such as Sessions, Rep. Devin Nunes of the House Intelligence Committee, and Sen. Richard Burr of the Senate Intelligence Committee. But with Sessions out of the picture, the way is now clear for the deputy attorney general — either the current placeholder, career Justice Department attorney Dana Boente, or Trump's nominee to replace him, Rod Rosenstein, another career government lawyer — to appoint a special counsel because of the
"extraordinary circumstances"
surrounding this case.

A special counsel would not have the same degree of autonomy as the independent counsels who in the post-Watergate era probed executive-branch misconduct until the law authorizing such appointments expired in 1999. Independent counsels were appointed by, and answerable to, a three-judge panel; special counsels can be appointed, and fired, by the Justice Department. But a special counsel would be expected to investigate much more aggressively than the White House would like, and firing a special counsel would only aggravate the scandal.

In addition to a special counsel, Congress could and should appoint a joint select committee to look into Kremlingate and issue a public report, but a special counsel would be likely to conduct a more professional investigation and, unlike lawmakers, would possess the power to indict, which may help loosen the tongues of suspects.


There is a good reason why Trump and his partisans are so apoplectic about the prospect of a special counsel, and it is precisely why it is imperative to appoint one: because otherwise we will never know the full story of the Kremlin's tampering with our elections and of the Kremlin's connections with the president of the United States. As evidenced by his desperate attempts to change the subject, Trump appears petrified of what such a probe would reveal. Wonder why?